Advance Australia not Fair but by Force as Arms Trading Extending Violence not Peace
This is how Australia loses its innocence.  All the rhetoric around terrorism is not the real reason for Australia becoming a target, it is its aggressive stance in a region geographically sitting below the the largest Muslim archipelago in the world.
I am a peacemaker and had no support in my attempts to teach peace or advance nonviolence in a fair and free society.  When I read about our profiting from warfare as if it is a great export industry I sit in silence.  I see the folly clearly.  Tim Costello brother of a former Treasurer Peter Costello calls this money 'blood money'.  It certainly is and it has now put Australia at risk as it was once a safe society due to its friendliness and non-aggression.  This military-industrial complex ensures that corruption is hidden as the previous blog reveals, that neutrality is neutered and the worldwide drug industry continues to thrive on unhappiness.  The money for armaments is a growing investment from the Australian tax base estimated at $200 billion over 10 years. This ensures the country will lose its peace of the world.  Australians did not vote for this.  It is not in the public interest as it is literally fuelling violence not resolution.  With civilians the one's targetted it is undermining human rights.  The US and Israel pulled out of the UN Huma Rights Council and UNESCO which is about peace building.  So it is evident what this is about.
A notable quote:
"Australia is known as a stable, peaceful, democracy. We should be exporting those values to build a more peaceful world, rather than potentially fuelling insecurity and instability."
I was watching ABC's Q&A the other night to discover we have a Minister for the Defence Industry.  What of a Minister for Conflict Resolution Industry.  Imagine that.
The real courage and security resides in disarmament.
Australia unveils plan to become one of world's top 10 arms exporters
https://www.theguardian.com/world/2018/jan/28/australia-unveils-plan-to-become-one-of-worlds-top-10-arms-exporters
PM spruiks jobs for local manufacturers but Tim Costello of World Vision says 'whatever money we make from this dirty business will be blood money'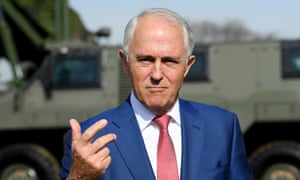 Australia is set to become one of the world's largest arms exporters under a controversial Turnbull government plan.
The prime minister, Malcolm Turnbull, has unveiled a new "defence export strategy" setting out the policy and strategy to make Australia one of the world's top 10 weapons exporters within the next decade.
Hailing it a job-creating plan for local manufacturers, the Coalition says Australia only sells about $1.5bn to $2.5bn in "defence exports" a year and it wants the value of those exports to increase significantly.
It has identified a number of "priority markets": the Middle East, the Indo-Pacific region, Europe, the United States, the United Kingdom, Canada and New Zealand.
It will set up a new Defence Export Office to work hand in hand with Austrade and the Centre for Defence Industry Capability to coordinate the commonwealth's whole-of-government export efforts and provide a focal point for more arms exports.
A $3.8bn Defence Export Facility, to be administered by the Export Finance and Insurance Corporation, will provide the finance local companies need to help them sell their defence equipment overseas.
A new Australian Defence Export Advocate position, set up to support the Australian Defence Export Office, will provide industry with the constant high-level advocacy needed to promote Australian-made weapons overseas.
"It is an ambitious, positive plan to boost Australian industry, increase investment, and create more jobs for Australian businesses," Turnbull said.
"A strong, exporting defence industry in Australia will provide greater certainty of investment, support high-end manufacturing jobs and support the capability of the Australian defence force."
The controversial plan has been anticipated since mid-2017 when Christopher Pyne, the defence industry minister, said he wanted to start selling far more Australian-made weapons overseas.
At the time, Tim Costello, the World Vision Australia chief advocate, attacked the plan, saying the government had cut humanitarian aid which saved lives while simultaneously discussing the merits of becoming a major weapons manufacturer and exporter.
"The government says this is an export and investment opportunity, but we would be exporting death and profiting from bloodshed," Costello said last year. "There is only one purpose in making a weapon and that is to kill someone with it. Do we really want that to be what people think of when they see the brand 'made in Australia'?"
On Monday he reiterated those concerns, saying the decision to become a major weapons manufacturer sent a shocking message about Australian values.
"When the Australian government looks for a new manufacturing and export opportunity, the best they can do is weapons?" he said on Monday. "Millions of people across the world are running from violence and our answer to that is to produce more weapons. Whatever money we make from this dirty business will be blood money."
A government fact sheet says the strategy "sets a new direction for Australian defence exports".
The government will set aside $20m a year to implement the strategy, including $6.35m to implement strategic multi-year export campaigns, an additional $3.2m to expand the Global Supply Chain program, and an additional $4.1m for grants to help build the capability of small and medium enterprises to compete internationally.
"This strategy is about job creation," Turnbull said in a joint statement with Pyne, the minister for defence, Marise Payne, and the minister for trade, Steven Ciobo.
"It will give Australian defence companies the support they need to grow, invest and deliver defence capability. It will make Australian defence exports among the best in the world."
Between 2012 and 2016, the 10 largest arms exporters were, in order: the US, Russia, China, France, Germany, the UK, Spain, Italy, Ukraine and Israel.
Australia was the 20th largest arms exporter during that period, according to the Stockholm International Peace Research Institute.
Anthony Albanese, the shadow minister for infrastructure, said it was unclear why the government was happy to back advanced manufacturing in defence when it had withdrawn support for the car industry, and it was not a big supporter of renewable energy technology.
"Why is it that the government isn't investing, for example, [with tax concession for] the renewable energy sector?" he said.
"If we had commercialised over the years the breakthroughs that have been made in Australia in solar, in wind, in wave technology, then we would be a lot better off today in terms of jobs and export potential."
The Greens leader, Richard Di Natale, said the government needed to stop "acting like warlords" and use their resources to help export peaceful technologies.
"What better way than to spread Australian intelligence, innovation, expertise and skills to the rest of the world through the development of clean energy technology, health technology and education services, rather than guns and killing machines," he said.
Amnesty International, Oxfam Australia and Save the Children have all criticised the plan.
"The Australian government should live up to the commitments it has made in its foreign policy white paper to be a nation that is committed to promoting peace and stability in our region and beyond," the Save the Children Australia chief executive, Paul Ronalds, said.
"Australia is known as a stable, peaceful, democracy. We should be exporting those values to build a more peaceful world, rather than potentially fuelling insecurity and instability."