One in Six 15-19 Year Olds Experience Homelessness
This is reflective of a society that is no longer egalitarian where fairness is the central value of being Australian. This is reflective of the breakdown of the family and a wages system that has been deregulated where young people are vulnerable to employers who just tell them what they will pay. It is typically equivalent to casual wages at 1980 levels.  That is why they have to find a few jobs.  I regard this as reflective of the US system.  I recall when I was there that low wages were between around $7-10 per hour. This is a country where prices are rising. We are facing the same ideologies here where the casual, part time and commencing wages are low.  They are too low to live on.  In markets with rising rental prices young people can't even move out.  In this culture there is stigma around not being independent and living at home. Moreover, parents are having to either shoulder the social cost or they don't help their children believing they have to stand on their own two feet, not aware of the economic malaise facing young people.
I remember Bob Hawke stating that no child will be in poverty by 1990.  Refer https://www.smh.com.au/politics/federal/no-child-will-live-in-poverty-30-years-on-bob-hawkes-promise-remains-an-elusive-goal-20170621-gwvdya.html  It is 30 years later and still poverty is happening. Homelessness is the most desperate of poverty.  It shows that the systemic and class based issues have not been dealt with.  I mention class as I am aware that those on decent incomes have no idea and hold prejudices around homelessness as it is not in their experience and there are salient attitudes of failure and success on the basis of wealth, occupation and social acceptance.  These prejudices run deep in Australian society.
I would add that conditions of depression and homelessness in the third world is common and there is an apathy and antipathy towards the poor as this is the way it is or karma (in some cultures).  From my perspective it need not be.  It is not about not having enough it is about how we distribute, how we perceive others and issues of powerlessness and power.
I am envisaging a future where all have the right to housing and the right to be treated equally with those in the highest demographics. 
Homelessness Leaving Young Australians Fearful of 'Losing' Future
https://probonoaustralia.com.au/news/2018/08/homelessness-leaving-young-australians-fearful-losing-future/
---
One in six young Australians have experienced homelessness, new data shows, and a lack of resources and awareness is leaving affected young people fearful of "losing" their future.
---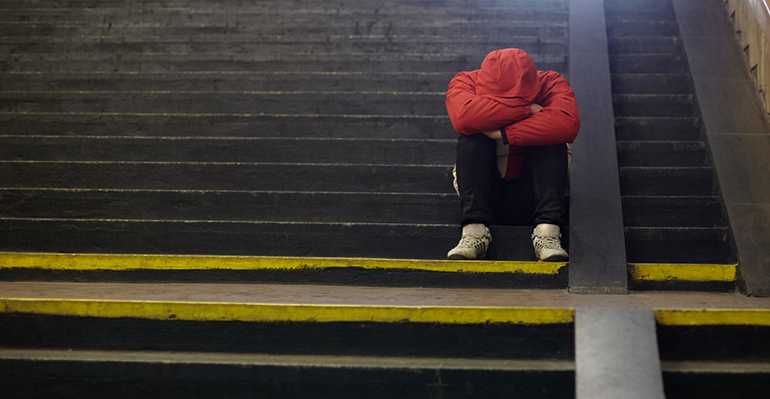 ---
Wednesday, 1st August 2018
at 3:07 pm
Luke Michael, Journalist
---
---
Mission Australia's latest youth survey of 15 to 19 year olds released on Wednesday found one in six (15.6 per cent) of the 21,812 respondents had experienced homelessness.
This includes 18-year-old Tasmanian Grace Morgan, who fled her family home at 16 to escape a domestic violence situation. With nowhere else to go, she had to couch surf at a friend's house for three months.
Morgan told Pro Bono News the experience of homelessness left her fearful for her future.
"I definitely felt overwhelmed. I felt like I potentially was losing my future, like I didn't have any control over it," Morgan said.
 

New report: @MissionAust says 1 in 6 young people in #YouthSurvey2017 have experienced homelessness. Includes those living in refuges, transitional accom & who have couch surfed. Must invest in prevention, early intervention, social & affordable homes. https://www.missionaustralia.com.au/news-blog/news-media/1-in-6-young-people-in-australia-have-experienced-homelessness …

1 in 6 young people in Australia have experienced homelessness

Mission Australia
Morgan now lives in a Hobart supported accommodation complex, but said improved awareness and resources around youth homelessness were vitally needed in the future.
"I would really love to see more homelessness awareness in the education system. After [my experience] I realised 'my gosh, people my age can be homeless'. Why have I never been told any of this?," she said.
"Why have I never been shown any resources or how I can fix that? I've never been taught any of this and it's a very real possibility that happens to so many people."
Mission Australia's survey found for those who reported couch surfing like Morgan, the experience was often not isolated, with just one in five (19.8 per cent) indicating it happened on only one occasion.
About one in five couch surfers (19.5 per cent) also revealed they had first done so when they were under 12 years old.
Mission Australia CEO James Toomey said this data offered a better understanding of young people facing homelessness and how it impacted them.
"It allows us to understand how their experiences differ from those young people who haven't experienced homelessness, such as experiencing low self-esteem and happiness, and gives us some clues as to what supports are most needed," Toomey said.
"Ultimately, it should serve as a stark reminder to us all that we must take action. To do nothing risks creating a generation of young people who carry the mental and physical scars of homelessness into their adult lives."
As part of the Everybody's Home campaign, Mission Australia is calling for a commitment to end homelessness by 2030.
The charity recommended action be taken at all levels of government to develop a national homelessness strategy, including priority measures to reduce youth homelessness.
"For many years, the community sector has put forward evidence-based solutions to end youth homelessness, but sadly we see from the recent census that numbers are still growing," Toomey said.
"This is just not acceptable and we urgently call on all governments to make this a priority."
---