How Fair is Political/Employer Influence in the Fair Work Commission?
If this is true then the Fair Work Commission is policitised.  There has to be an Integrity Commission set up that is independent of Government, business, unions and is appointed by community representatives.  I think it is becoming increasingly clear that politics is about winning rather than representation for the people by the people.
I believe this has happened is that there are no real checks and balances on those in positions of authority or influence.  It is concerning to read that when integrity bodies get set up still the issue of ethics, misconduct, collusion arises – so to find people who are incorruptable. This is essential if the public are not to lose faith in authority, which I believe is already happening.
This is a notable quote:
"Fair Work Commission deputy presidents are paid $460,000 a year and generally sit on the most significant cases…"
When people are homeless, in severe poverty or on low incomes I find salaries like this concerning.  It is equivalent to a Prime Minister's salary. Is that fair work for commissioners?
I just found this in a Google search:  At $528,000 a year, Turnbull's pay is highest of any leader in OECD.  He is former the Goldman Sachs CEO.
These gaps between the lowest pay and highest based on qualifications, skills, contacts and trades/professions is why there are grievances for which I am sure these deputy presidents hear.  What I find interesting is how can they relate to a struggling worker seeking justice (fairness) when they would be closer equated to those with money?  That is the bias may be unconscious in respect of employers or elite status.  I have heard 'status' referred to this year and it was perceived by a person in a high position as of 'worth'.  I noted that.  Normalised inequality.  I have lived in both world's and regard them as a bubble.  They have no idea of the reality, rigidities, biases, barriers and dismissive treatment when you are perceived as working class. I think of Jane Elliot's Blue Eyed series here when you reflect on dividing on the basis of education and income.  People on the lower incomes feel intimidated and less than those in sharp suits with expensive lawyers.  The latter see themselves as superior. As they excel in their chosen career this elitism is reinforced as the 'club' is evident.  I've worked with both wealthy and famous people and I have observed their worlds.  I did't envy their wealth or status.  I saw it is as a world where people were largely not honest to each other, each seeking to be seen to be, always wanting something as they are after money.  They don't rock the boat and appear friendly yet behind backs much goes on.  It is a fake world in my experience. I guess when a crisis happens in a person's life you find out really quick who is a real friend.  Many report their friends disappear.
I take great pride in having grown up in a working class family as it was grounding and you knew where you stood.  I found people were straight talkers, there was ignorance yes as they were not well educated but they had a sense of values and ethics.  There was none of this pretense that I have witnessed at higher levels, where people are being seen to be.  I was thinking this morning I'd much rather have no income, live in poverty, be homeless but retain my sense of dignity and freedom.  For me integrity is my real wealth and no-one can take this from me.  I wake up in the morning and I like the person I am.  I know those in my life are real, those who are not value something else.  I am doing what I love.  I am actually free.  So I don't need to manipulate, wheel and deal, be seen to be or get caught up in group think.  I can live an honest life.  That feels good.
The key issue in the article below is political appointments influencing outcomes at the Fair Work Commission. It is an irony given the title.  If this is accurate then there is no belief in fairness it is to 'win'.  To 'win' is becoming a buzz word I am realising more and more reflects a psychological disposition believing the ends justifies the means.  This is to win at any cost. The winning is connected to identity and to not win is somehow weak.  The next blog will make this distinction very clear. It is a distorted mind pattern rendered normal in economics and competitive sport.  It is largely a masculine orientation.  Women are relationship orientated, they are better suited to suit on Commissions as mediators ensuring both sides communicate and ensure fair outcomes. The men are in it to win and to experience status that equates to self worth.  I am bringing more depth in here as I reach for the underlying motivations.
I am awakening to power and influence. Justice is not just a word, it is not to be seen to be, it must be based on felt ethics and values, otherwise it is a sham and grievances escalate. In other words it creates social/business instability which is not good governance or a result of accurate representation.  However, I feel the tide turning.
https://www.theguardian.com/australia-news/2018/dec/07/coalition-stacking-fair-work-commission-with-mates-labor-says
Coalition stacking Fair Work Commission with mates, Labor says
New appointments bring tally to 20 people in a row with employer backgrounds, Shorten says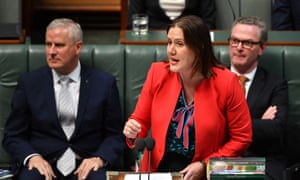 Labor has accused the government of "stacking" the industrial umpire after it appointed six people to senior positions, most from employer backgrounds.
On Friday, the industrial relations minister, Kelly O'Dwyer, announced six new deputy presidents of the Fair Work Commission and one new commissioner, which Labor leader Bill Shorten said has brought its tally to 20 employer appointments in a row.
The commission has wide-ranging powers, including setting the minimum wage, penalty rates, dealing with bargaining disputes and deciding cases of unfair dismissal.
Union and employer groups have a long history of accusing unfriendly governments of stacking the commission.
Of the new deputy presidents, four have worked directly for employer associations, including Amanda Mansini, the director of workplace relations at the Australian Mines and Metals Association (Amma), and Gerard Boyce, a barrister who has worked for both Amma and the National Electrical and Contractors Association.
Bryce Cross, a barrister who was formerly the head solicitor at the Chamber of Manufactures of NSW, and Janine Young, a partner at law firm Corrs Chamber Westgarth since 2011, were also appointed deputy president.
The government promoted Tony Saunders, a commissioner it appointed in 2015, to deputy president and also appointed Nicholas Lake, a senior human resources manager at corporates BHP Billiton, ExxonMobil, ANZ and Philip Morris, to the senior position.
Fair Work Commission deputy presidents are paid $460,000 a year and generally sit on the most significant cases.
According to the Australian, the Fair Work Commission president, Iain Ross, recommended only one new appointment but O'Dwyer said she made the seven appointments after many parties urged her to give the commission extra resources.
On Friday, Shorten accused the government of "institutional stacking" and "crass conduct" because it is in a panic to make appointments before the 2019 federal election.
"They've actually appointed to this independent umpire 20 people in a row with employer backgrounds," he told reporters in Canberra. "They are tainting the commission, they are stacking it with mates."
"I don't think that there was a big jobs vacancy for deputy presidents of the Fair Work Commission."
O'Dwyer said the appointments will give the industrial umpire "the ability to approve pay increases and better working conditions more quickly for Australian workers".
"This group of appointees is highly qualified and well regarded in their respective professions," she said. "I am confident the appointees will bring comprehensive expertise and valuable skills to the Fair Work Commission."
When Shorten was workplace relations minister he made two appointments to the position of vice-president, effectively demoting other senior tribunal members, in a move that infuriated employer groups.
In 2016, Amma accused Labor of hypocrisy over claims of tribunal-stacking, because Labor made 18 appointments from employee or trade union backgrounds out of a total of 26 appointments in its six years in government.
In 2018, the Fair Work Commission increased the minimum wage by 3.5%. In recent decisions it has caused consternation among both employers – who dispute the conclusion that "modest and regular" minimum wage rises do not add to unemployment – and unions, who argue the minimum has not kept up with median wages.
In February 2017, the commission ordered a cut to Sunday and public holiday penalty rates in the retail, pharmacy, fast food and hospitality industries, prompting Labor and the Greens to promise to reverse cuts.