Is the Issue of Terrorism in the Philippines about Inequality, Poverty and Corruption?
I heard about my government entering the conflict in Philippines.  My first thoughts were Mindanao as one of the participants on the Rotary Peace and Conflict Studies Program was a Christian from the Philippines and he was keen to talk about Mindanao. I was aware that the Muslim/Christian Conflict had occurred.  I just did some research to find out more information about the conflict and its roots are poverty.  There are other issues including corruption in politics and media publicising extremist groups. I avoid the word 'terrorism' as I see it as deflecting from really investigating the nature of the problem.  I've used it in the title as the media keeps using it and people search for it.  At the end of the day it is to explore what people are wanting, why they do what they do, what are their grievances, what are the drives in the conflict? who is funding it? and how the conflict can be transformed in a way where all win.  How can we find the narrative that builds a bridge rather than a wall.  I am all for bridges.
So a quick assessment informs me in the first instance that the issue to focus on is not troops or fighting extremists but finding ways to expand and distribute wealth.  I wonder if my government can play a constructive involvement through trade not entering a conflict. I see this as placinig Australia in a position where it will be targetted as it is announcing it is involved.  In my view not a wise move if the aim of the Australian government is to reduce extremism. Moreover, Australia sit's beneath the largest Muslim archepeligo in the world – 265.3 million people.  Australia has around 23 million. If we calculated South Asia it is around 600 million. If we expand this to the Asia-Pacific area we are looking at around 1 billion Muslims. I get the image of the child playing with matches when I hear Western rhetoric. Making and fuelling a fire through conflict and threats when we could be wiser learning to cook together and then break bread as neighbours learning how to live together.  Peacemaking is not understood in our world but it is absolutely crucial if we want a world that thrives.
Questions about the endless war on terror need to be asked.  What is fuelling the label of terrorism and what is the actual extremist activity around the world. Is this the quickest way to expand a Caliphate by vested interests and at the same time provide a market for weapons.  I wonder when the focus turns to the real interests of all people on the ground and helping citizens of the Philippines find creative and productive ways to shield themselves from any extremism so they can thrive as a united country.  I'd be interested to see Christians and Muslims deal with the core issue of the Spanish conquest of the Philippines and the inequality caused between these two religions. It is important that the core unifying teachings be expanded where love, compassion, forgiveness and mutual understanding through peace education and conflict resolution is encouraged by media, government and through the education system. This is the real intervention in my view that would be productive if the objective is peace in our world not expanding the Caliphate.  Always remember that what you focus on expands.  If your problem solving is around threats and fears you will expand that. If it is to look at people involved as people without labels and start to look into the real issues beneath the mask of the conflict you will discover their are creative ways to de-escalate actual and potential violence. We need to train counter-terrorism experts in peace making and if they are going to intervene facilitate dialogue and deeply listen to all parties without agenda. It is the agenda of nation states, trade, self interest and fears driven by power that distract from the real underlying issues in my view.
Here is the article that caught my attention on the situation in Mindanao, Philippines.
The Southern question: Poverty and violence in Mindanao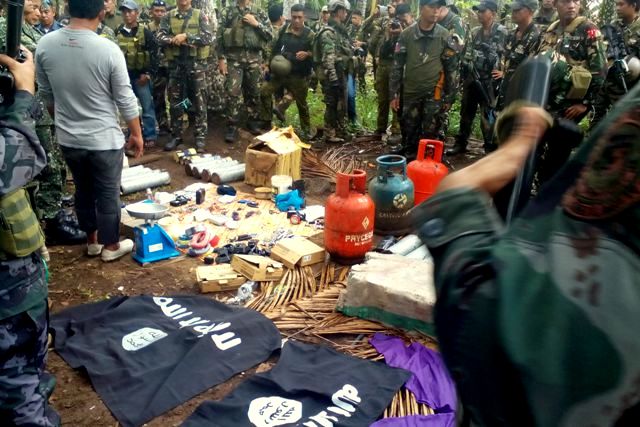 Black flags associated with the terror organization Islamic State were recovered from the site of a military offensive against Abu Sayyaf militants and their Malaysian counterparts. May 16, 2015. Philstar.com/Roel Pareño
Mindanao is fraught. We have the peace process—obviously stalled until after elections—with opposing rhetoric about "peace through increased autonomy" versus that of "total war as the ultimate solution" at the other extreme. Presidential candidates present political and development solutions of varying detail. Human rights offenses are claimed by advocates on all sides, but least discussed of all, perhaps, is who exactly is fighting for what in Mindanao.
Despite its vast natural resources and agricultural potential, Mindanao remains the poorest section of the country. Eleven out of the 20 poorest provinces are in this region, with poverty incidences ranging from 44.9 percent (Zamboanga Sibugay) to 74.3 percent (Lanao del Sur). With poverty, hunger, and the lack of economic opportunity strongly felt in these areas, the youth are easily recruited to "live by the gun." The disparity in access and control over economic and political issues also makes the situation ripe for separatist or class-based armed conflict. Worse, entrenched corruption exists at various levels of governance.
The result is that, in Mindanao, we have jihadists pushing to advance their particular ummah (doctrinal or ideological community); separatists pushing for autonomy of varying degrees, up to and including full independence; Communist proponents of protracted armed struggle aimed at eventually causing the state to wither away entirely; pre-Hispanic sultanates claiming various territorial rights; right down to rido—clan disputes over property or seeking to avenge past wrongs.
For example, even as this column's being written, fighting continues between the AFP and an Abu Sayyaf Group (ASG) in Basilan—in which 18 AFP troops were killed in an ambush on April 9. Since at least the 18th century, Basilan—because of its size, geography and location—has been a favored hideout.
Established in 1989 by Abdurajik Abubakar Janjalani with $6 million allegedly from al-Qaeda's Osama Bin Laden, the ASG formed as a splinter group in response to the MNLF's acceptance of the ARMM agreement. It adhered to the al-Qaeda ideological line until the founder was killed in a police shootout. Once his younger brother, Khadaffy Janjalani, took over leadership in 1998, the ASG's focus became kidnapping, robbery and murder—with a smattering of rape, child sexual assault, forced marriage, drive-by shootings, extortion, and drug trafficking thrown in—taking on a financial rather than ideological mantle.
Following the death of the latter in 2007, and with military and police actions exerting increased pressure, the ASG split up into smaller groups—one is almost tempted to call them "gangs"—but still with some convoluted sense of jihad as a driving commitment. Perhaps because al-Qaeda financial support dried up, or else out of some sense of doctrinal purity and zeal, one such group, under the leadership of Isnilon Totoni Hapilon, swore an oath of loyalty to Abu Bakr al-Baghdadi, the ISIS leader. Since September 2014, the group's kidnapping for ransom has been in the name of ISIS.
Opinion ( Article MRec ), pagematch: 1, sectionmatch: 1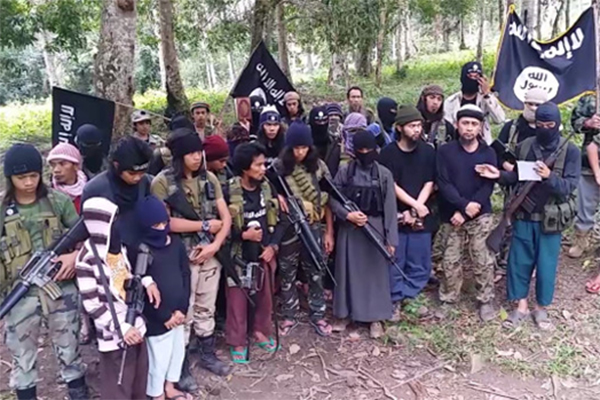 This screen capture from a video by the Abu Sayyaf Group released by the Islamic State shows militants in Basilan swearing allegiance to IS leader Abu Bakr al-Baghdadi. Courtesy of the International Center for Political Violence and Terrorism Research.
Whether any particular sub-group of the ASG can be seen as a "genuine" affiliate of ISIS, though, is an open question, but this does not necessarily suggest that ISIS has a strong foothold in the Philippines. But far more than al-Qaeda, ISIS is extremely present online, making it possible for armed groups anywhere with internet to swear loyalty to them. While that surely means that ISIS—by its very nature—will encourage its remote affiliates to commit acts of the greatest possible terroristic impact, in a recent press conference, both US and Filipino authorities played down any kind of actual ISIS operational control.
On April 14, during a joint press briefing, Philippine Defense Secretary Voltaire Gazmin and US Secretary of Defense Ashton Carter said that there is no formal ISIS organization in the Philippines. Likewise, Maj. Filemon Tan Jr., spokesman of the Western Mindanao Command—the on-the-ground force in Basilan—dismissed claims (reported by Reuters) that ISIS was behind the April 9 attack as mere propaganda, even questioning if the source of the report was really ISIS, based on the information given.
But those warning of ISIS and the dangers their involvement entails are not completely off base either. As US Secretary Carter pointed out, it is part of a "worldwide phenomenon" of smaller terror groups affiliating themselves with ISIS.
"That's one of the reasons why it's so important that ISIL be destroyed in Syria and Iraq, which I'm confident we will do with our coalition partners. And that will demonstrate that there is no such thing as an Islamic State based upon this hateful ideology," he said.
To bring this complex discussion full circle—and return to the development & national unity issues I want to address—it bears mentioning that less than a fortnight before the brutal April 9 ambush, it was a combination of AFP and MILF militia that overran an ASG base in Basilan. In fact, despite the BBL vote having fallen by the wayside for the moment, the MILF is actively working with the AFP against the ASG, the BIFF and other terrorist groups. This is in addition to the AFP and PNP having large numbers of personnel freed up from their previous duties of keeping the MILF under control.
The ASG is as intractable as it is partly because it has committed so many outright crimes—actions that can by no stretch of the imagination be considered "freedom fighting" and that would never be covered by amnesty—but also because they are nestled in areas where they have many family members and life-long friends to protect them. (The Janjalani brothers are from Basilan, as are many of their earliest recruits.)
The other jihadist terror group affiliated internationally is the Jemaah Islamiyah (JI), which, having started in Indonesia with the intention to form a regional caliphate, lacks the kind of Filipino support the ASG enjoys. With backing from al-Qaeda, JI has been active in Thailand, Singapore and Malaysia, with a few forays into the Philippines, where it uses areas like Basilan and Maguindanao as a hideout, paying their way by passing on expertise, mainly in bomb-making.
By far the most notorious of our islands' international fugitives, the term "JI" is now applied almost generically to foreign terrorists on the lam—which makes counting them difficult—but where ASG is considered to have around 300 members, JI is counted in the area of 30 or so. Still, since it is "high value" members that JI is prone to protect, they are capable of facilitating a great deal of damage and bloodshed. For all of that, there is still not much evidence that they have any operational organization in the country.
Far more disruptive is the homegrown New Peoples' Army (NPA)—under the umbrella of the National Democratic Front (NDF)—part of the Communist Party of the Philippines. Just as the ASG is a power of magnitude stronger than the JI (30 to 300), the NPA is a power of magnitude larger than the ASG, with an estimated strength of over 3,000. Subscribing to the Maoist doctrine of protracted armed struggle, they do everything possible to ensure that the government fails at whatever it does. Sometimes their activities are direct—as in blowing up infrastructure, power lines and disrupting education in various ways—making sure that the poorest of the poor are unable to receive any benefit from government programs.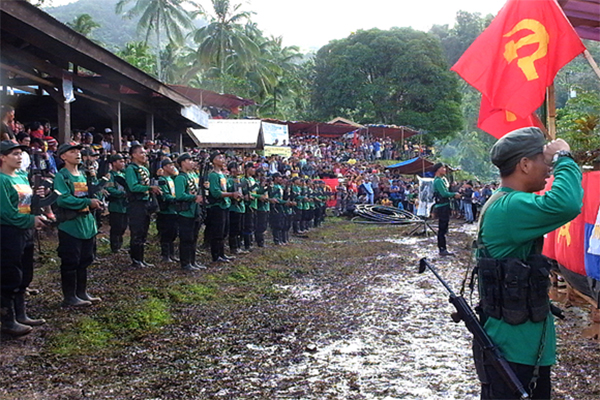 A company of New People's Army guerrillas present arms as they sing the communist hymn "Ang Internasyunal" at the start of the CPP's 47th founding anniversary in Agusan del Norte on December, 2015. Photo by Kodao Productions.
Other times, they take on a more Janus-faced approach, collecting "revolutionary taxes," sabotaging private sector attempts at bringing in more jobs or concocting schemes where so-called "oppressors of the people" are tricked into oppressing the poor even more—thereby facilitating violent uprisings. Though it's difficult to find incontrovertible evidence, it's also hard to find a situation where demonstrators were killed by the authorities where the NPA wasn't involved in creating and escalating the demonstration.
But, finally, let's look at how the social, economic and political situation in Mindanao helps make all of this possible. Because this is exactly what the incoming administration is going to have to face up to and deal with.
First and foremost, the youth of Mindanao—Christian, Muslim and Lumad—are at risk. Groups like ISIS are as expert at online recruitment as they are at swelling the size of their international influence. There is no technological "fix" for this, especially when local media and mainstream online news outlets are so cooperative with publishing every ISIS propaganda claim. Propaganda aside, however, it is the conditions under which the youth of Mindanao are presently living that make them ripe fruit for various kinds of extremist indoctrination.
Lack is a powerful mobilizer. Lack of food, clean drinking water, health care, education and a modicum of opportunity to make an honest living. "Safety net" programs must be made to work better, even as they have to be expanded. It is fortunate that some good programs and infrastructures are already in place. Still, more work is necessary: with improved governance, hopefully new, more imaginative programs may come about.
Governance—and corruption—form another set of issues that must be addressed by the next administration. The drive for, and the opposition to, autonomy is driven by an old and lasting distrust between imperial Manila and the Moros. Among both Moros and Lumads, militarization is an issue that must be addressed with nuance and sensitivity.
The dangers are real. ISIS, with a charismatic leader and a few tens of thousands of violent followers, is for the moment disrupting the world and inflicting untold suffering and death. They've shown themselves willing and capable of magnifying their voice worldwide and associating themselves with any number of horrific actions. Their threat must be opposed technically and militarily—but that is not the ultimate solution. The ultimate solution is good governance and a population that manages to break the bonds of poverty and lack to share an equal part in the future of our nation.