Gandhi Contemporary Dharmadhikari Dies at 92
Tribute
to
Justice Dr. C.S. Dharmadhikari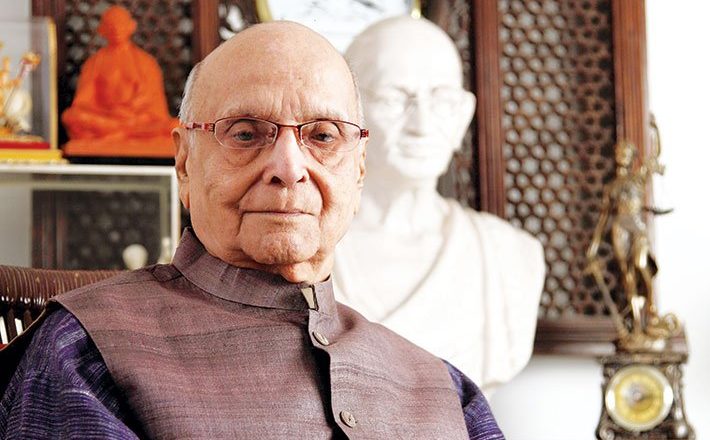 Justice Dr. Chandrashekhar S. Dharmadhikari, Chairman of the Gandhi Research Foundation, passed away at 1.30 am on 3rd January at the age of 92. As an Indian Independence movement activist and a Gandhian thinker, Dr. Dharmadhikari represented the legacy of Mahatma Gandhi for more than seven decades.
When Dada Dharmadhikari and Damayanthi Dharmadhikari were jailed during the Quit India campaign, their 14 year old son, Chandrashekhar S. Dharmadhikari, engaging in underground activity, helped sustain the movement for Swaraj. Since 1972, as a Judge of the Bombay High Court, and later as acting Chief Justice, he pronounced landmark judgments favouring women's rights as well as the welfare of the marginalized, such as tribals, prison inmates and mentally challenged people. After retirement, he served as Chairman of the Maharashtra Administrative Tribunal.
Throughout his long life he acted as a torch bearer of Gandhian nationalism with profound commitment for intercommunal harmony and inclusive development. Furthermore, gender justice and economic equitability were at the forefront of his writings and speeches. Believing in the innovative strength of the young generation, as a modern Gandhian, he enthusiastically engaged them through dialogic conversations and writings which were published in the form of 24 books and innumerable articles in different languages.
Until his very last breath, as a 'mover and shaker', he was associated with 29 organizations as President, Vice-President, Chairman and Trustee. Thereby he endeavoured to guide the nation on the path of nonviolence and Truth, a spirit he had imbibed from Mahatma Gandhi. Recognizing his services the Government of India honoured him with the award of Padma Bhushan in 2003.
When Dr. Bhavarlal H. Jain envisaged intensifying his social commitment along Gandhian lines, it was Dr. Dharmadhikari who encouraged him to establish a Gandhi Centre that eventually metamorphosed into the Gandhi Research Foundation (GRF). Under his able stewardship as its longstanding Chairman, the GRF has emerged as a prominent organization promoting Gandhian ideals, effectively contextualizing Gandhi's message and presenting it in an appropriate manner (for instance, through the Khoj Gandhiji ki Museum) and at suitable venues (such as workshops, international conferences, etc.), thus transforming the GRF into a dynamic institution of contemporary relevance. It was Justice Dharmadhikari at whose behest, Bhau guided the GRF to develop educational programs such as the Gandhi Vichar Sanskar Pariksha as well as rural regeneration initiatives. The latter is exemplified by an ongoing nationwide project, named Ba-Bapu150, at the behest of Justice Dharmadhikari, underscoring the importance of 'Ba' (Kasturba), as the Mahatma's right hand, and thereby foregrounding the crucial impact of gender-parity in achieving Gram Swaraj.
The Jain family has said that, "Justice Dharmadhikari's departure deprived the nation of a conscience keeper, the legal fraternity of a noble counsel, the Gandhian community of a beloved leader, and we the Gandhi Teerth and the Jain family of a fatherly mentor. He was a man upholding the certitude of principles, clarity of thought, purity of emotions and spirituality of living. We are all going to miss him."
While condoling with the nation the sad demise of Justice Dharmadhikari, the Jain family and the GRF pay tribute to the departed soul and make the solemn pledge to promote his ideals and endeavours which are highly relevant for contemporary times in the hope of a better future."
Directors | Members, Advisory Board | Members, Academic Council,
And Associates of Gandhi Research Foundation, Jalgaon