Funding in Defence Rather than Investing in Peace?
What is the price for the global community in not investing in peace (preventative)?  When we invest and prepare for Peace we begin naturally to disarm.  When we prepare (fund) for War we can be sure we are looking for conflict or in same cases, creating it (generating markets).  My over the horizon radar is seeking for signs of real peace.  What you focus on expands.
All war can be undone on paper if we seriously want it to end.  The Work of Byron Katie makes that clear.  Refer http://thework.com/en   We can train the next generation to learn conflict resolution, self inquiry, philosophy, creative thinking, analysis in order to problem solve.  We have to learn to focus on the root of the problem in order to find solutions that are real.  The real question is do we want peace or is this about making money?  What of the future of your children?  Always they are in my heart.  Without wisdom and mindfulness misadventure is on hair trigger alert.  Can we trust the men at the top to be rational?  Just look around the world today, that is the reason why peace is so important now.
The problem today is there are industries growing up around this who have a vested interest in war not ending. So given 90% of fatalities are civilians, what can the world community do?  Stay in the space of peace even when confronted with violence and war.  A way will open at the right time.  Trust and envisaging peace is the high way.  I think of the First Earth Battalion (New Earth Army) and this brings me REAL HOPE. This represents the enlightenment of the military. For they are me in a higher reality.  Refer https://en.wikipedia.org/wiki/First_Earth_Battalion
There is a time for all things, the time for peace will arrive just-in-time.  Miracles happen all the time and life is a process where we have to move through who we are not to realise who we are.
This article gives information on how defence spending is at a post Cold war high.
Global defence spending to hit post-Cold War high in 2018

18 December 2017 Jane's Editorial Staff
Worldwide defence spending forecast to reach $1.67 trillion in 2018.
Global defence expenditure is set to increase again in 2018 to reach its highest level since the end of the Cold War, according to the annual Jane's Defence Budgets Report released today by IHS Markit (Nasdaq: INFO), a world leader in critical information, analytics and solutions.
According to the Jane's report, defence spending will grow for the fifth consecutive year, reaching $1.67 trillion in 2018 and overtaking the previous post-Cold War record of $1.63 trillion seen in 2010.
Defence spending will increase by 3.3 percent in 2018 – the fastest rate of growth for a decade – driven by the largest year-on-year increase in US spending since 2008. Funding for the procurement of military equipment is also expected to rise from $295 billion in 2017 to $315 billion in 2018, another record high in global terms.
"The increase in defence spending reflects improving economic conditions around the world, coupled with a response to continuing instability in a number of key regions," said Fenella McGerty, principal analyst, Jane's by IHS Markit. "However, defence spending remains lower in relation to GDP than at any time in the last 10 years, which suggests that recent growth primarily relates to improved economic and fiscal conditions in established markets."
Over the last decade, global defence expenditure has fallen from an average level of 2.7 percent of GDP to 2.2 percent.
US raises defence spend under Trump
The key reason for the expected acceleration in global defence spending growth is the potential 4.7 percent increase to the US budget planned for 2018.
With the US Department of Defense's (DoD) budget accounting for 40 percent of all global defence expenditure, changes in US spending affect trends worldwide. Since the 11 September attacks in 2001, the US has spent around $10 trillion on defence.
"President Trump and his administration sought large increases in the DoD budget in his first budget. The increased funding will go toward fixing readiness and training issues that are largely the result of sequestration cuts," said Guy Eastman, senior analyst, Jane's by IHS Markit. "Investment will also increase in targeted areas such as Ballistic Missile Defence (BMD), shipbuilding, missiles and munitions, space-based systems, and C4ISR systems."
More NATO members to hit spending targets
Nine NATO members will reach the 2 percent of GDP benchmark for defence expenditure in 2018 – the highest number hitting this goal since the financial crisis. These countries are the US, Greece, Estonia, Turkey, Latvia, the UK, Lithuania, Poland, and Romania.
Western Europe's turnaround to growth continues
Western Europe is still emerging from a tough six-year period where defence spending was cut by 1 percent annually between 2009 and 2015. The trend has steadily reversed since then and regional defence spending is expected to increase by 1.3 percent in 2018.
"Defence spending growth in Western Europe will largely be driven stabilising government balance sheets, the perceived threat from Russia on NATO's eastern border, and several key procurement programmes coming online." McGerty said. "However, this growth will hinge on political developments in the region. Not least, the outcome of German coalition discussions and the bearing this will have on European defence cooperation as well the progress of Brexit negotiations and the resulting impact on the economic outlook of the UK and its trading partners."
Eastern Europe sees fastest defence spending growth
Eastern Europe will be the fastest growing region in the world in 2018 as several countries pursue the goal to increase defence spending to 2 percent of GDP. Growth has been particularly spectacular among the three Baltic States. By next year, Baltic defence spending will have more than doubled in real terms compared to 2014 levels and Estonia, Latvia and Lithuania will all be spending 2 percent of GDP or more on defence.
"Growth has taken off in Eastern Europe since Russia's intervention in Ukraine in 2014 with the majority of the new defence funding being put towards military modernisation," McGerty said. "Armoured vehicle procurement is on the increase – in fact, Europe is emerging as the leading spender globally in the military ground vehicle market."
Russian defence expenditure fell for a second consecutive year in 2017 as Moscow continued to grapple with challenging economic and fiscal conditions.
"The defence budget is now around 10 percent lower than its 2015 peak and is expected to be reduced by a further 5 percent next year. Russian military modernisation will continue but the cuts are impacting the pace of that process," said Craig Caffrey, principal analyst, Jane's by IHS Markit.
APAC spending slows but return to growth expected
Growth in Asia-Pacific – a region that has experienced robust growth over the last decade – slowed this year to its lowest rate since 2010 due to smaller increases in China and India and cuts to spending in South East Asia.
"While we saw a distinct slowdown in 2017, the foundations remain in place for robust increases to return over the next two years. We still expect Asia-Pacific to be behind the driving force behind long term growth in global defence spending," Caffrey said.
"Economic growth is still the main factor behind rising spending in Asia-Pacific but we're starting to see strategic factors play a more prominent role. In recent years Chinese actions in the East and South China Sea, the North Korean ballistic missile threat and insurgencies throughout South East Asia have all caused additional funding to be diverted towards defence," Caffrey said.
Middle East returns to growth due to geopolitical challenges
Following a reduction in 2016, defence spending returned to growth in the Middle East and North Africa this year. Crucially, Saudi Arabia – the largest defence spender in the region – increased its defence budget in 2017 after cutting spending the previous year.
"Fiscal consolidation is still occurring in a number of key states in the region following the collapse in oil prices; however the challenging security environment has seen defence budgets protected from cuts in most cases. We expect defence budgets to continue to increase going forward but growth will be constrained by a more cautious approach to government spending," Caffrey said.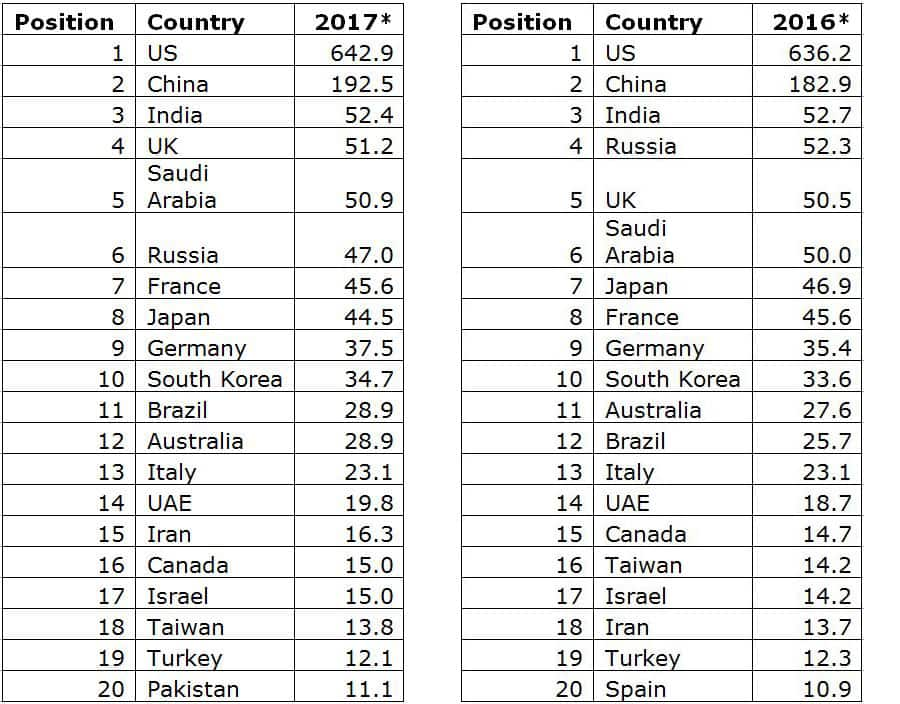 *Figures in constant 2017 USD billions
The intelligence cut off for this report is 7 December 2017.
The Jane's Defence Budgets team produces the annual Jane's Defence Budgets Report every December. The report examines and forecasts defence expenditure for 105 countries and captures 99 percent of global defence spending.
The Jane's Annual Defence Budgets Report is the world's most comprehensive, forward-looking study of government's defence budgets. Tracking 99 percent of the global defence expenditure from 105 of the world's largest defence budgets, data is compiled from Jane's Defence Budgets online solution platform. It includes five-year forecasts, historical data, budget charting, trend evaluation and in-depth analysis by country. In this study, values are based on constant 2017 US dollars.
Learn more about Jane's Defence Budgets or get in touch for more information.
Jane's Editorial Staff
Posted 18 December 2017